About Annette Riley
"Being good in business is the most fascinating kind of art"
-Andy Warhol



I combine an art background with many years experience working in small business settings - and a passion for both. For me, Web design is the perfect way to merge these experiences.

I have a fascination with all things "retro." Maybe I was scared by something as a child. Just kidding. Below is a picture of my second birthday when my Mom gave me a "Pinky Lee" party. I do seem to be a little bewildered - so you be the judge...

(Pinky Lee was was an American Burlesque comic and host of a children's television show, The Pinky Lee Show in the early 1950s. His signature costume was a loud plaid suit with baggy checkered pants. Think PeeWee Herman with a Seltzer bottle.)
The Artist in Me
I enjoy playing around with "Digital Imaging" - which is a fancy way of saying having fun with computer programs such as Photoshop or Fireworks.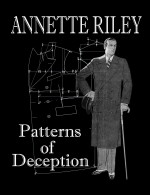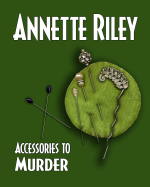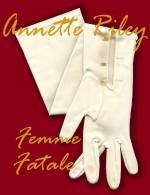 Mystery Novel Book Covers
I make collages using old magazines and postcards. I like the retro look and feel.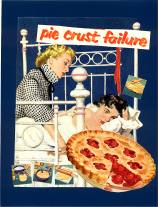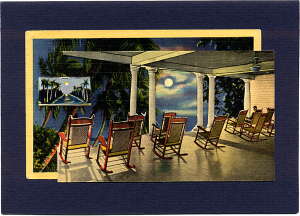 Collages
My drawings are from pictures and memories of actual people in my family. I use black and white to try to capture a feeling of nostalgia bordering on homesickness. They are like idealized TV reruns of my family.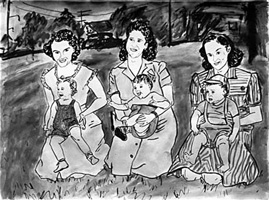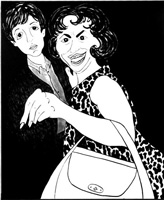 Baby Contest (left), Aunt Lita Meets Paul McCartney (right)
My 15 Minutes of Fame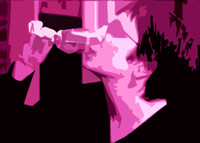 In 2007, I appeared in the WNED presentation of "Wineries of Western New York." I was a customer tasting wines at the Winery at Marjim Manor. The filming, which actually took place the previous Fall, was both fun and challenging.
The challenging part - for a small person who only drinks an occasional glass of wine - was take after take after take after take...and then "let's shoot again with close ups!"
I was nervous at first, but became more relaxed as time when on, as you can imagine. When I started doing impressions of Rachel Ray, The WNED crew figured they had seen enough and called it a day. Yum-o!
Well, enough about me...