Testimonials
Working with a reliable and credible company is important for your business. Here is feedback from some of my happy clients on our services and the results they've seen for their business.
"I thoroughly enjoyed working with Annette Riley. Annette was able to take my thoughts and create an appealing, functional website. She has a knack for identifying a clients needs. I had great fun working with her."
---Dawn Timm, Niagara County Environmental Coordinator
Division of Environmental/Solid Waste Management
Niagara County Department of Public Works
"A woman from a large foundation shared with me that prior to our meeting together to discuss major funding, she visited our new website. She was very impressed by the site. It taught her what she needed to know about our agency. That knowledge gave her the incentive to proceed with our meeting."
--President/CEO, The Dale Association

"I found The new Dale Association website to be bright, delightful, easy to navigate and a positive representation of what the Dale is all about".
--Chair, Board of Trustees, The Dale Association

"Working with Annette Riley was a joy. I provided the content information and Annette did the rest! Our website represents us in a professional, user-friendly and positive light. We couldn't have been happier with the process or with the end result. All of Annette's recommendations, from the layout and design, to the interactive calendar, integrating a PayPal feature and using email marketing, were spot on. We feel that Annette is more than our designer, she is our partner - equally committed to our success."
--Patricia Quirk, Marketing Coordinator, The Dale Association

The Dale Association is a not-for-profit human services agency providing an umbrella of services for adults of all ages.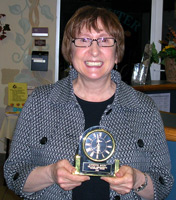 I was thrilled and honored to receive the 2010 Teamwork Award
from the Dale Association on October 28.
You are a devoted website designer, but even more—you became a partner, working to increase our business.

Thank you for all the professionalism and caring that is so apparent in the website you designed for us.
--Sharon Murphy, New York State Tour Boat Association
"Web sites are key to business today. The Web site Annette designed for me gives people the feeling of actually being in the winery. The elegance of the building, the variety of offerings and the necessary information are all woven together. Customer response has only been positive. Comments range from 'WOW!' to 'I can find everything I want' to 'Can't wait to see it in person.' So, a Toast to Web sites."
--Margo Sue Bittner, The Winery at Marjim Manor
"Running a business requires making a lot of difficult decisions. But when it came to deciding on a Web site, Annette not only made that decision easy, she made it enjoyable. She took the time and interest to research and understand our business. We were so pleased with Annette's talent that we decided to have her add more to our Web site.

Annette did an absolutely beautiful job and I would recommend her to anyone considering a Web site for their business."
--Todd Firkins, Shutterworks Inc.
"I have been very pleased with the service Annette provides. Not being a very computer oriented person, my request for an easy to navigate website was fulfilled. Also the ease with which I can get new information, newsletters, pictures, etc. on the website promptly is great.

My clients do love the picture page and by adding new pictures every few weeks it keeps people coming back. It's not a "static" kind of business tool. It is set up to grow and change as needed over time."
--Dr. Jeanne Best, Royalton Equine Veterinary Services
"I spend a lot of time at a variety of websites in my consulting business and see sites ranging from delightful to dismal. What I like most about Annette Riley's work is her understanding that websites aren't like baseball caps. "One size fits all" works OK with the cap business, but is a disaster for web design.

I want a website that meets my needs, is easy to navigate and artistically pleasing to the eye. Annette delivers."
--Doug Emerson, Profitable Horseman
I knew I needed a web site but have never seen one that I really liked. So, when I asked Annette to design one for me, I knew she couldn't. She couldn't because I couldn't even tell her what I did like. Well, surprise surprise! Absolutely awesome! How she gave me exactly what I wanted is still a mystery to me! I recommend Annette to everyone! Just fantastic!
-- Jack Nuwer, Accurate Computer Service, Inc.
"Annette, who is a joy to work with, captured and presented the message I wanted to portray. She took my work -- often with too much verbiage -- and distilled it down to the 'essential' and, then, designed the graphics that create a tiptop professional result."
--Peter Wendel, Peter Wendel Group